ASPects ad rate info
Article submission guidelines
How NOT to write a press release
ASPects is the monthly newsletter of the Association of Software Professionals, serving both as the publication of record for reporting news, official business, and member benefits to the membership, and helping members to create and sell software using the marketing methods of try-before-you-buy and many other marketing methods. Our readers are mostly programmers, independent software publishers, web site developers marketing or distributing software, and other software industry participants.
ASPects contains confidential and proprietary information, and so is normally not available to non-members, but one issue per year is available publicly. Several of the most recent convention special issues are available for download in PDF format--click any cover image below to read the issue.
---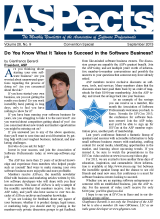 ASPects, September 2013
Volume 26, No. 9 (1.4 Mb)

Do You Know What It Takes to Succeed in the Software Business?




by Gianfranco Berardi


Are you thinking about starting your own software business? Are you worried about unanswered questions regarding the process of doing so? Are you concerned about the risk?
Invest in your success, and join the Association of Software Professionals today....

(page 1)





Trade Show Calendar


ISVCon, September 27-29, 2013 (page 2)



Publishers Reap Benefits from Global PAD v4 Repository




by Joel Diamond


The PAD Specification v4.0 is nearly 9 months old and the community of publishers as well as download sites, software catalogs and other PAD support channels are already reaping benefits...

(page 3)





Flying through hyperspace ain't like dustin' crops




by Al Harberg


In today's troubled economy, a lot of microISVs who sell consumer software are trying to add a business application or two to their product mix. As Han Solo explained to Luke Skywalker in the first Star Wars movie, piloting the Millennium Falcon to another galaxy is not like flying a crop duster on the family farm. Similarly, developing and marketing a business application is not like developing yet another program for home users. Software developers who understand the differences between the two marketing challenges can do a better job of generating income with their new marketing focus. Here are some insights about what you might encounter as you move into the business software arena... (page 4)



Top 10 Mistakes Made When Hiring Freelancers




by Jim Coutu


When hiring freelancers, mistakes can be made at almost any turn. As an arbitrator who specializes in freelance projects, I have arbitrated over a thousand failed projects. Many times I have seen cases where someone hiring a freelancer made easily-correctable mistakes that caused their project to fail. Here are the top ten mistakes made when hiring freelancers...

(page 5)



Don't Build a DoorSlam!
An App is Not a Web Site


by Jerry Stern


I've been seeing annoying apps this year.A lot of them. Really, I should install an app for Sheetz? Really? Hello, it's a gas station with hot dogs, and road-side billboards that tell me to install their app. Why?
Some online blogs are calling these sites and apps doorslams...

(page 9)





How to Get an Ultimate Perspective on Your Business




by Jiri Novotny


The best way to quickly gain a tremendous perspective on your business is to create a visual model of it....

(page 11)





Own the Software Sales Process




by Al Harberg


Take charge of the sales process if you expect to close a sale. That advice comes from Joe Girard, the world's greatest salesman according to

The Guinness Book of World Records

. Much of the advice in Girard's book

How to

Close Every Sale

can be translated from Girard's experience with face-to-face automobile sales into the realm of selling software on the Internet...

(page 13)





ASP Member News


DataNumen: Powerful, Affordable RAR Repair Software

(page 14)


Popular "Allmyapps" Windows App Store to be based on PAD® v4.0

(page 14)





News & Press Corner


Amazon Appstore Now Accepting HTML5 Web Apps (page 15)
Amazon Launches Mobile Associates API

(page 15)


Moving forward (Steve Ballmer of Microsoft retires)

(page 16)

< >
---
August 2012, Special News Issue
Volume 25, No. 8 (314 Kb) ISVCon 2012 in Reno
by Gianfranco Berardi
After much preparation, last month the ASP hosted its first ISVCon, the new Software Industry Conference, in Reno, Nevada. The rebooted conference kicked off with a Thursday night Welcome Reception sponsored by Digital River's MyCommerce. It was a great opportunity to meet fellow attendees while enjoying some of the delicious hors d'oeuvrs and drinks provided by the excellent Atlantis Casino Resort Spa staff, a taste of things to come... (page 1)


AppVisor/ASP Partnership to Provide Full Update to the ASP PAD Platform
by Joel Diamond
The early beginning of the idea behind AppVisor started around 2008...
Thus, AppVisor has been formed to support, protect, and enhance the ASP's PAD platform, the intellectual property of the platform, and the integrity of the platform, and to reinvest in the platform, so it meets the needs of current and future members of the ASP... (page 1)

Trade Show Calendar
(page 2)

Dennis Reinhardt Joins ASP Hall of Fame
by Gianfranco Berardi
The ASP Hall of Fame recognizes individuals who have helped make the ASP what it is today. During Saturday lunch at ISVCon, it was my pleasure to present the ASP Hall of Fame award to Dennis Reinhardt... (page 4)

The Benefits of PAD Certification
by Joel Diamond
Why does the PAD Platform Require Certification? (page 6)

Interface Guidelines for Mobile/Touchscreen Devices
by Gregg Seelhoff
Several years ago, I gave a presentation at SIC entitled, "Practical Interface Guidelines: Things they did not teach us in programming class", in which I detailed some best practices for interface design and implementation. While general interface principals remain persistent, the recent popularity and growth in mobile and touchscreen devices demands a revisit; smartphones, tablets, and similar devices have somewhat different interface requirements... (page 7)

Paid Upgrades or Free Upgrades?
by Jiri Novotny
The recent passionate discussion in the ASP newsgroups- "The million dollar question; To charge for updates or not?" inspired me to write this article.
I would like to offer you my thinking as someone who has experience with free upgrades, paid major upgrades, and upgrade subscriptions... (page 9)

ASP News
Motion: Web forum, Call for volunteer: Member Offers Manager, New SaA: Steve Faleiro, Assistant Don Waterfield (page 11)

Marketing Software to Retirees
by Al Harberg
According to Harris Interactive, 28 percent of people who are 67 and older use eReaders to read books. Based upon the current state of the book publishing industry, I wouldn't have guessed that 28 percent of many demographic groups read books in any format. But more significantly, the survey points out that retired people are comfortable using technology. And that's a software marketing message that software developers shouldn't ignore...
Don't ignore the Baby Boomers and the Silent Generation when you're making your marketing plans... (page 12)

ASP Member News:
Slimbrowser V6 - a Versatile Full-service Browser (page 13)
Digital River Enables eCommerce in in Metro Apps (page 14)

News & Press Corner
ESWC Announces 2012 Software Conference and Epsilon Award (page 14)
---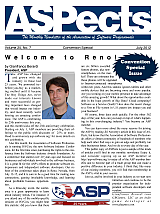 July 2012
Volume 25, No. 7 (1.1 Mb) "Welcome to Reno!"
by Gianfranco Berardi
The ASP has changed and grown with the industry in these last 25 years. We promoted try before-you-buy as a marketing method until it became The Way Things Are, we've made our interests known and were successful at getting important laws changed that would impact our industry, and most recently we're hosting an amazing conference... (page 1)

Trade Show Calendar
(page 2)

"The Biggest Mistake You Can Ever Make"
by Jiri Novotny
The biggest mistake you can ever make is to wing it alone.
Being a mISV is awesome. But I think that doing it all alone and never fully onnecting with other mISVs is not awesome... (page 3)

"ASP Indie Games SIG"
by Gregg Seelhoff
Did you know that the Association of Software Professionals has a SIG (Special Interest Group) specifically for game developers? (page 4)

PAD Specification Update
by Joel Diamond
Plans are being made for a major overhaul to the entire PAD platform beginning this summer. Members will be notified in the very near future with the full plans for both changes and enhancements to the PAD Specification as well as the authoring tools, shortly after ISVCON... (page 6)

How to Capture a Screen
by Jerry Stern
I spent some time looking at software screen shots recently. It was something of an eye opener. As in, it caused considerable visual stress to look at the ugly things. They were, for the most part, worthless...
It's not just that these screenshots don't show what the program can do; they don't even identify what program we're looking at... (page 6)

"Customer Relationship Management for microISVs"
by Al Harberg
Customer relationship management (CRM) is good software marketing. CRM is a simple notion that can help software developers sell more of their applications: It costs most businesses less money to generate sales from old customers than it does to find new ones... (page 8)

"Call Yourself!
Are You Impossible to Reach?"
by Jerry Stern
I'm surprised by basic web page failures among microISVs. I follow a link to a product I've heard about for years, or was recommended to me, and I see, well, crab grass...
We run software and technology businesses, and many of us are guilty of liking our technology so much, that we want to just do that...
The common error in a small business is skipping supervision... (page 11)

"Software Passwords and Software Marketing"
by Al Harberg
If your software asks users to create a password to protect the privacy of their information, then you have an opportunity to offer additional value to your customers. And that can mean increased software sales, additional recommendations, and good will for your company in your marketing niche.
Help your users choose effective passwords... (page 14)

ASP Member News
Slimbrowser – a Fast and Secure Tabbed Web Browser (page 14)
Affordable Cloud-Based Speed Reading Software for Colleges and College Prep (page 15)
Create Handwriting Fonts In Many Major Languages (page 15)


---
August 2011
Volume 24, No. 8 (585 Kb)
The NEW Software Industry Conference: ISVCon
by Sue Pichotta
ASP Conference Manager With new owners, a new nickname, a new location, a new venue, and even a new website, the Software Industry Conference is being reborn! ASP buys SIC
The Association of Software Professionals is proud to announce that it has purchased the rights to the Software Industry Conference (SIC), which took place every summer from 1991-2010. SIC has been an event where you could learn more about software marketing and other business of software issues, meet with other ISVs, and get a chance to talk to some of the businesses serving the ISV community. The ASP is honored to be able to continue making this worthwhile conference available to our industry, and give it a reboot with some new ideas... (page 1)

Trade Show Calendar
(page 2)

ASP News
Don Waterfield appointed as Webmaster (page 3)
PAD Futures
by Joel Diamond
An entire software industry flourishes now that has been built on top of the ASP specification of PAD. The Portable Application Distribution changed the way the software authors and distribution sites publish product information. Before PAD, authors provided descriptions to web sites one-by-one, dealing with unique description requirements and agreements for each distribution opportunity. But software has radically changed, the methods of distribution have changed, and the needs of sites who have built their business on the PAD platform have changed.
I will use my recent appointment as PAD Chair to assist the ASP in strategically leading the efforts to update, enhance, and expand the current PAD platform... (page 4)Beyond this Point, There be Technobabble
or: How to Write for Today's PC Users
by Jerry Stern
Many years ago, a friend was grumbling about the things we did to configure our computers. It was mostly downloading programs that could do things with types of files that were newer than what the operating system knew about–this was in 1981, by the way, and the computers were not IBM compatible. Nothing has changed....
So, software developers, there you have the typical home user of computers, and quite a lot of business users, too. If you're writing software for a non-expert, there are a few things you have to keep in mind when you put messages on a screen, in the help file, or on a web page... (page 5) Optimizing Your Purchase Page (Basics)
by Jiri Novotny
Your mISV website has three main goals: 1. Attract visitors. 2. Get them to download your software. 3. Get them to purchase your software. All these steps are vital; however, I would argue that the purchasing page is the most important part of your website... (page 8) 3 Easy Ways to Use Twitter
by Gianfranco Berardi
You've joined the party! You've heard that Twitter is a free and easy way to promote your business, and so you've signed up for a Twitter account to promote your business, added a profile picture and a bio, and followed a number of interesting people. You even have people following you back. Now what?
Of course, you only have so much time in a day. Like any communications medium, Twitter could easily become a waste of time if you're not careful. What follows are three easy ways to use Twitter to improve your business, increase your networking opportunities, and interact with your customers... (page 9) Software Marketing and Website Artwork
by Al Harberg
There are a lot of theories about the effectiveness of photos, drawings, and other illustrations on software developers' web sites. For example, some microISVs believe that including stock photographs is a great idea, while others believe that including these pictures would hurt their software marketing efforts.
I'd like to discuss some of the ideas of David Ogilvy, a giant in the field of advertising... (page 11)ASP Member News
Erik M. Pelton & Associates Reaches 1,500th U.S. Trademark
Plimus Survey: More 'Likes' Matter (page 13) News & Press Corner
FTC Provides Can-SPAM Video
Sixteen Individuals Arrested in the United States for Alleged Roles in Cyber Attacks (page 14)

---
July 2010
Volume 23, No. 7 (495 Kb) "Shareware is Dead--Long Live Shareware!"
by Andy Brice
Today it is relatively easy to market your software (through a web site), distribute the software (via Internet downloads) and collect payment (using an online payment provider). It wasn't so easy before the Internet existed. "Shareware" appeared in the 1980s as a way for small commercial developers to reach a large market.
Early shareware pioneers including Andrew Fluegelman, Jim Knopf (Button), Bob Wallace, and Marshall Magee proved the commercial viability of the shareware concept, reportedly making millions... (page 1)


"President's Corner"
by Michael Dulin
Since this is the ASP's annual public edition I'd like to point out to the public that we have changed our name. We are now the Association of Software Professionals instead of the Association of Shareware Professionals. We are still the same organization that has been around since 1987 with the same focus. That focus is mostly on independent software developers... (page 2)


"Failure to Launch"
by Russell Thackston
I've started more than six microISVs over the last decade and, not counting the open source projects, none of them made it to market. Why? Let me tell you. . . .
The internet is littered with the tumbleweeds and debris of startups that failed to launch. The evidence of them is right there in the blogosphere if you know what you're looking for. It usually goes something like this. .. (page 5)


"WordPress 3.0: First Impressions & Menus"
by Jerry Stern
WordPress 3.0 is out--Theolonious Monk has the honor of having this release named after him. First, all you need to know: The upgrade works, and the interface is recognizable and doesn't seem to hide any old features. Backup your site first, run the update from inside the admin panel, and that's pretty much it.
Now, on to why you should upgrade your self-hosted installations of WordPress. It's still a blog platform that works well without a blog, it's still an easy CMS to install and setup as a product website, and it's still easy to maintain... (page 8)


ASP Member News:
Software Publishers Entice Developers to the July Software Industry Conference in Dallas AutoPlay Media Studio 8 Enables Visual Software Development for Microsoft Windows 7 Manage Tasks, Projects, Schedules, and Reminders with TaskMerlin 3.0 New Software Allows up to 50 Mouse Cursors to Collaborate on One Desktop (pages 10-11)


News & Press Corner:
DoJ Joins in Launch of Intellectual Property Enforcement Initiative ifraudalert.org to Rescue Stolen Data (pages 11-12)


---
July 2009
Volume 22, No. 7 (323 Kb)
"Put Your Strengths To Work" by Jeff Camino
As a person running your own software business, you have to wear a lot of hats in order to be successful. Even if you have staff to help, the fact that you are running a small business means you likely get involved in every aspect of the business. You are likely the systems architect, lead developer, quality assurance manager, webmaster, marketing guru, and designated coffee maker. And, if you are like most people, you have certain areas where you possess strengths while there are other areas in which you are not as strong.
Marcus Buckingham has written several books about the subject, and there is a rapidly growing "strengths movement" in the business world as a result. In his book, Go Put Your Strengths to Work, Marcus asserts that we are much better "playing to our strengths" than we are trying to shore up our weaknesses."


"Digital ASPects Coming Soon..." by Jerry Stern
Announcing the new digital editon of ASPects.


ASP News: Current boardroom affairs, digital ASPects
Summary of current discussions from the boardroom, and the motions to convert ASPects to digital PDF.


"Game Developer's Corner: Game in Three Acts" by Diwant Vaidya
Games and comic books both must sell before the audience's first impression is complete. Many games depend on stories to win favor. There is a natural progression to these games and tension builds as they unfold. Suspense and power-ups tease players along, past the point of "Trial ends here."
Comic books also tell stories. From an attractive front splash through the first three pages, the comic must convince its reader that it must be bought and read in order to answer questions and release the tension created on the first few pages. The authors of these comics generally have less time than game developers to convince a purchase, so the strategies they apply to structure their story must be potent. It would be an interesting experiment, then, to take the prevalent story structure used and proven in many comics and apply it to shareware games. Dennis O'Neil's The DC Comics Guide to Writing Comics lays out the most popular and reliable structure used in comics as below (aside: O'Neil's book is a trove of very curious knowledge for those looking for more tools comic authors use).


"In the News..." by Ed Pulliam
A Digest of Recent News about the Software Industry: XP Mode in Windows 7, Browser Wars, EU Internet Laws, Sales tax on the Internet, Symbian App Store, UK to monitor Internet


"Borland Software Corporation to be Acquired by Micro Focus International PLC"
Press release: Borland Software Corporation today announced that Micro Focus International plc and Borland have entered into a definitive agreement under which Micro Focus will acquire all the outstanding shares of Borland in a cash merger transaction.